Welcome to "Kansas Common Sense." Thanks for your continued interest in receiving my weekly newsletter. Please feel free to forward it on to your family and friends if it would interest them.
Vladimir Putin's Assault on Ukraine Must Not Go Unpunished
Speaking on the Senate Floor in Support of Ukraine
Vladimir Putin is a thug and is solely responsible for the invasion of Ukraine. The United States must recognize that we have adversaries who seek to use force to recover claimed territory, possess weapons of mass destruction, and otherwise destabilize our country and our allies and partners. For those of us in Congress, to ignore these threats would be derelict in our duty to preserve American security and prosperity.
Each of these challenges can be met if we in the Senate are unified in purpose. Watch my full remarks from Monday night here or below.
Speaking with President Zelenskyy
On Saturday morning, I joined a virtual meeting with President Zelenskyy and my Senate colleagues. President Zelenskyy's bravery and leadership has been an inspiration to the world in uniting against Vladimir Putin. He requested more defensive assistance and that we embargo all Russian oil. We must continue to support Ukraine's defense of its freedom and hold Russia accountable for its actions – and that includes immediately banning Russian oil.
President Zelenskyy's final plea on our call was: "Don't let the Ukrainian people be exterminated."
The United States stands with Ukraine.
Calling for American Energy Independence
On Tuesday, ahead of the State of the Union address, Sen. Marshall and I teamed up to call on President Biden to institute an embargo that would apply to Russian energy exports to the United States. Additionally, we joined efforts to introduce legislation that would ban the import of Russian oil should President Biden fail to act.
Vladimir Putin's invasion of Ukraine must be a wakeup call to the Biden administration to maximize home-grown energy and not diminish America's energy independence. Russia is America's third largest supplier of oil. Each day the U.S. and our European allies are sending millions of dollars to Russia for its energy resources. We can no longer subsidize Russian aggression. We need an all-of-the-above approach to energy independence, and it can't be accomplished without enabling our oil and gas producers to play a larger role. The Biden administration must reinstate the Keystone XL Pipeline and promote sensible solutions that boost jobs at home and keep money out of the pockets of our adversaries. Read the full letter here.
I have also cosponsored legislation with Sen. Joe Manchin that would extend the ban of energy imports beyond oil and petroleum products to liquefied natural gas (LNG) and coal, for which we have large domestic reserves.
Supporting Agricultural Markets in Need Following Russian Invasion
This week, I urged Secretary of Agriculture Tom Vilsack to prioritize using U.S. agricultural export assistance and international food aid programs to help supply markets left unfulfilled as a result of Russia's invasion of Ukraine. Ukraine is a major grain producing country and a predominant supplier for multiple countries, including Kazakhstan, Georgia, Turkey and Egypt. Between the humanitarian disaster unfolding in Afghanistan and the developing crisis caused by the invasion of Ukraine, it is critical for the administration to utilize every tool to meet the rising levels of global hunger.
Specifically, I called on Secretary Vilsack to utilize the Bill Emerson Humanitarian Trust to purchase U.S. commodities to donate to food emergency situations. I also called on the administration to get serious about food inflation here at home by addressing labor shortages and high energy costs that are driving up food prices. I appreciate Secretary Vilsack's efforts thus far on behalf of American agriculture and look forward to working with him to meet new global hunger challenges caused by Russian aggression. Read the full letter here.
Calling for Vladimir Putin to be Held Accountable for His War Crimes
I also joined 18 of my Senate colleagues on Thursday to introduce a Senate resolution calling for Vladimir Putin and members of his regime to be held accountable for the numerous acts of war, aggression and human rights abuses that have been conducted under his command.
The appalling attacks on civilians in Ukraine are the latest in a long line of Vladimir Putin's unjustifiable orders. From indiscriminate bombings in Chechnya and Syria to targeted assassinations in London and Berlin, Vladimir Putin and those who obey his commands are not just thugs, they are war criminals. The United States and international community should hold them accountable.
Putin's Actions Confirm What I Heard in Moscow
Russia's invasion of Ukraine confirms what I saw face-to-face with Russian officials in Moscow in 2018: they care little about what the world thinks of them, and they have no intention of changing their aggressive behavior. I would repeat now what I directly told them then – there will be no improvement in American-Russian relations until they do so.
I visited Moscow four years ago with my Senate colleagues at the invitation of then-Ambassador Jon Hunstman to have high-level meetings with Russian officials, including Foreign Minister Sergey Lavrov, Duma Speaker Vyacheslav Volodin and Federation Council Foreign Affairs Committee Chairman Konstantin Kosachev, during which we had frank discussions regarding a number of issues, such as Ukraine and Russia's illegal annexation of Crimea in 2014, Moscow's relationship with China and Iran, and their attempts to influence elections in the United States and elsewhere in the world.
At each and every meeting, I made clear Russian interference in U.S. elections would not be tolerated and a thawing of relations could occur only if this and other behavior by the Russian government changes. Then and now, it is important for Russian leadership to understand the importance of Congress in foreign policy and its authority to protect our national interests alongside the president. We conveyed that Congress will continue its tough stance toward Russia – including maintaining sanctions – if their behavior remained unchanged. In addition to our meetings with Russian officials, we received classified briefings from Ambassador Huntsman, State Department and U.S. Military officials.
We also celebrated Independence Day at the U.S. embassy in Moscow with Ambassador Huntsman, embassy staff and Marines stationed there to defend our embassy. The Russians have created a circumstance in which most of our embassy employees have been deemed persona non grata and have been removed from Russia, and Americans working at the embassy have been harassed and mistreated by Russians while working for the American people. It was a small gesture to show these dedicated patriots the appreciation our country has for them.
Vladimir Putin and his regime have chosen to maintain the course they have set, harming innocent civilians and relations with the United States in the process. As I promised them, Congress will remain intent to put pressure on Russia by refusing to lift mandated sanctions against Russian individuals and enhancing support to deter Russia in Europe. In the aftermath of this latest invasion of Ukraine, my colleagues and I will be unyielding in making certain Russian leadership pays a steep price for their actions.
Attacks on Nuclear Facilities
Russia's outrageous attacks on Ukraine's nuclear facilities risk the danger of a nuclear disaster. Any release of radiation would place at risk the lives of countless innocent Ukrainians and other Europeans who would suffer the consequences of radioactive fallout. The irresponsible actions of Russia's military must cease, and control of these power plants must be given to experts to avoid an historic tragedy.
My Response to President Biden's State of the Union Address
The state of our Union is sobering – we are up against the highest inflation in 40 years, record gas prices, surging violent crime, an historic number of migrants illegally crossing our southern border and alarming instability abroad. Kansas families are looking for a dose of long-overdue candor from President Biden and his administration. In President Biden's inaugural address, and again this week, he pledged unity, but unfortunately his first year in office has left the American people empty-handed.
As Vladimir Putin's unprovoked and unjust invasion rages in Ukraine, murdering innocent people and threatening the security of all of Europe, the world is taking note of our actions, or lack thereof. We must take immediate action to bolster our defense to protect Americans, increase energy production to lessen our dependence on foreign suppliers, provide humanitarian assistance to demonstrate our commitment to global security and further isolate Putin with punishing sanctions. Even this week, U.S. dollars are still subsidizing Moscow's aggression as Russian oil arrives in our ports. This is unacceptable and is why I introduced legislation and called on President Biden to immediately ban Russian energy imports.
We face a crucial moment in our nation's history. It is time for the President to work with Congress on sensible solutions to restore liberty, reduce reckless spending, protect our borders, support law enforcement, become energy independent and send a clear message to the world that America is united against aggression of any type. We need to show the American people that we can and will work together to address issues here at home, and we need to demonstrate to our friends and foes around the world that we are unified in our response to Russia's invasion of Ukraine.
Hosting FBI Director Wray in Kansas
Hosting a Cybersecurity Conversation at the University of Kansas
Cybersecurity is more relevant than ever as we watch the invasion of Ukraine and the strategic reliance Russia has on cyber-attacks in warfare. On Friday, I welcomed Federal Bureau of Investigation (FBI) Director Christopher Wray to the University of Kansas for a conversation about law enforcement in the digital age and training the next generation of cybersecurity professionals. Over 230 students and cybersecurity leaders joined us at the Lied Center to discuss this issue as it becomes more pressing within Kansas, and to the country's next generation of professionals.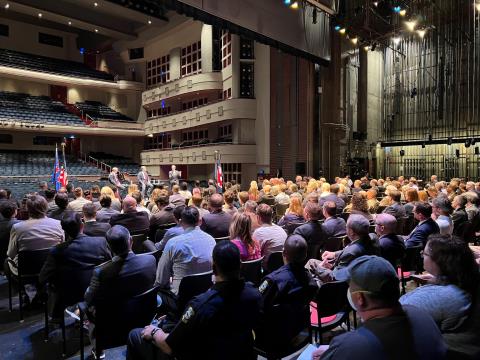 The ability of our nation – in both government and the private sector – to deter and neutralize cyber-attacks from having their intended effect is essential to our national security and to our economy. Technology has become such a large component of our lives in recent decades, meaning the necessity to be cyber secure extends itself into every industry, from agriculture to aviation to defense. Recent significant and public cyber threats have captured the nation's attention, and these new challenges and dangers require a capable, qualified and well-trained workforce to combat these threats. As a nation, we are experiencing a major shortage of cybersecurity professionals, which is one of the reasons I was pleased to have so many students in attendance.
It's not always the biggest targets that face the biggest threat. Prior to our discussion with Director Wray, we toured the Kansas Applied Research Lab where we heard directly from the people in our state leading this charge. Collaboration at all levels is the most effective way to protect all of America's assets, and the work being done at KU in partnership with the FBI and the business community is a perfect example. Their work will help bridge the workforce gap and provide a continuous pipeline of cybersecurity professionals to combat the ever-evolving cyber threats we face.
I thank Director Wray for coming to Kansas to speak with KU students, to Chancellor Girod for his work building on the successes at KU, to Carl Taylor, Shannon Blunt and Perry Alexander for their research and dedication to improving our nation's cybersecurity, and to all the students who came to learn more, who asked questions, and who shared their thoughts with us.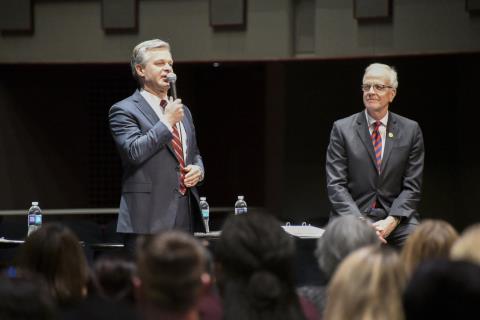 Speaking with Law Enforcement Leaders in Topeka
At a time in which there's a national cry to defund the police, in which the work and dedication of men and women in blue is questioned, I have and will continue to be an advocate for our law enforcement officers.
Hearing directly from departments across Kansas about what they are facing on a daily basis is extremely valuable to me, and on Friday afternoon I was pleased to invite FBI Director Wray to join me in Topeka to speak with police chiefs, county sheriffs, highway patrolmen and other law enforcement leaders.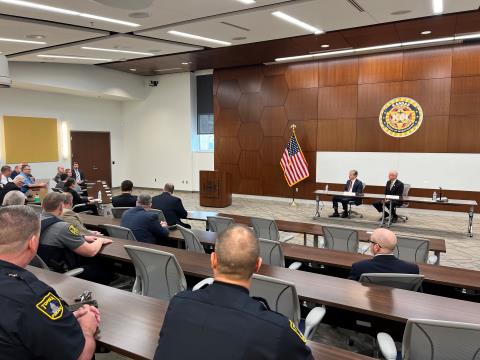 As ranking member of the Senate Appropriations Committee with jurisdiction over the Department of Justice, including the FBI, DEA, ATF and U.S. Marshals, I take seriously my ability to get local law enforcement across Kansas the resources they need to keep our communities safe. That means moving away from a one-size-fits-all approach and having these conversations so that I can best aid departments and officers protecting communities across Kansas.
Our discussion focused on how to improve interactions and partnerships between federal agencies, like the FBI and state and local police. More specifically, I heard about the need to make sure departments are being treated fairly when attempting to access federal grants, expand training opportunities like the FBI National Academy to better fit the needs of those who need it most, and additional assistance from the Department of Justice to combat violent crime in the form of joint operations such as Operation Legend.
Thank you to Director Wray for being a part of the discussion, and to Attorney General Derek Schmidt and KBI Director Thompson for hosting us. Whether it's accreditation, creating de-escalation training programs or securing body cams to help officers feel more secure, I value the sacrifices each officer makes to best serve communities across Kansas.
Honoring the Women of the Six Triple Eight
On Monday night, the U.S. House passed my legislation to award the women of the 6888th Central Postal Directory Battalion, the only all-black, all-female battalion to serve overseas during World War II, the Congressional Gold Medal.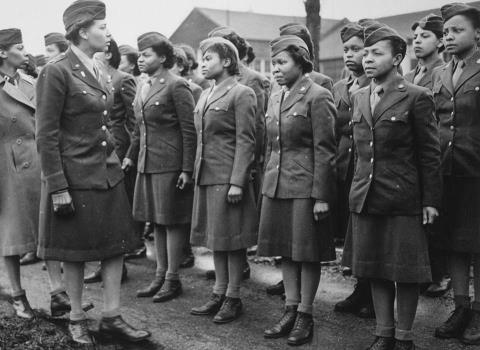 The women of the Six Triple Eight have earned a special place in history for their service to our nation. It has been an honor to meet members of the battalion and help lead this effort to award the Six Triple Eight with the Congressional Gold Medal – the highest expression of national appreciation from Congress. Though the odds were set against them, the women of the Six Triple Eight processed millions of letter and packages during their deployment in Europe, helping connect WWII soldiers with their loved ones back home – like my father and mother.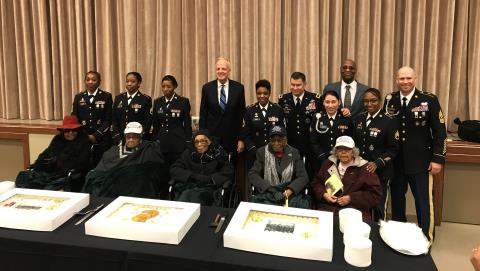 Nearly 80 years after their service and as Black History Month ended, we were finally able to recognize these extraordinary women for their service to our nation with the highest distinction Congress can bestow. I was honored to celebrate their service as this bill – after passing the Senate last year – now heads to the President's desk for signature. Read more about their incredible history from the U.S. Army Center of Military History here.
Listen to my remarks on the Senate Floor by clicking here or below.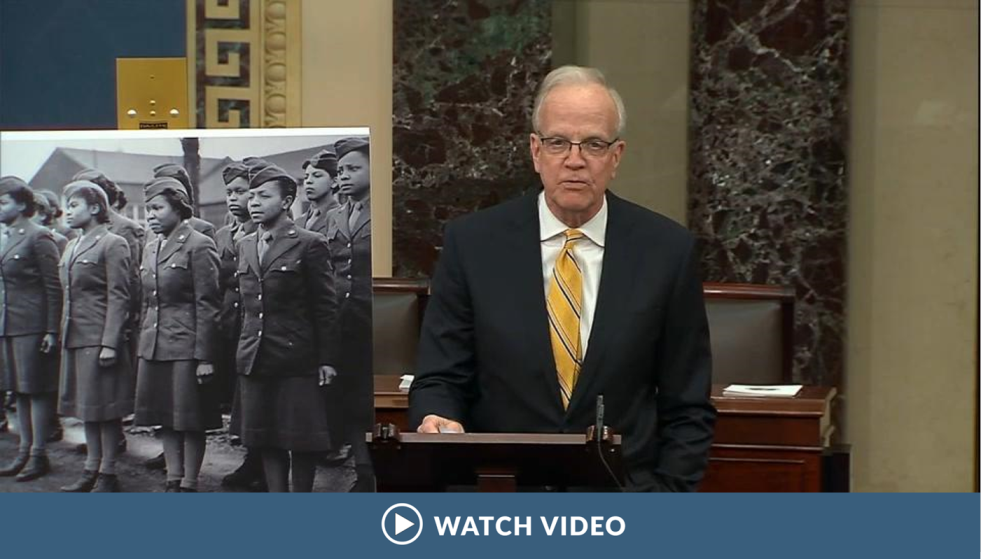 Federal Reserve Nominee Updates 
On Thursday, Federal Reserve Chair Pro Tempore Jerome Powell appeared before the Senate Banking Committee. My questions to Chair Powell centered around how local lenders and Kansas communities will be affected by the Fed's interest rate and quantitative easing adjustments. I also addressed the relationship between energy prices and inflation. Kansas farmers and ranchers are widely affected by changes in interest rates and energy price sensitivities. Chair Powell assured me that the Federal Reserve is monitoring the effect on commodity prices and the agriculture industry as the board moves to reduce the inflation that is hurting Kansas families.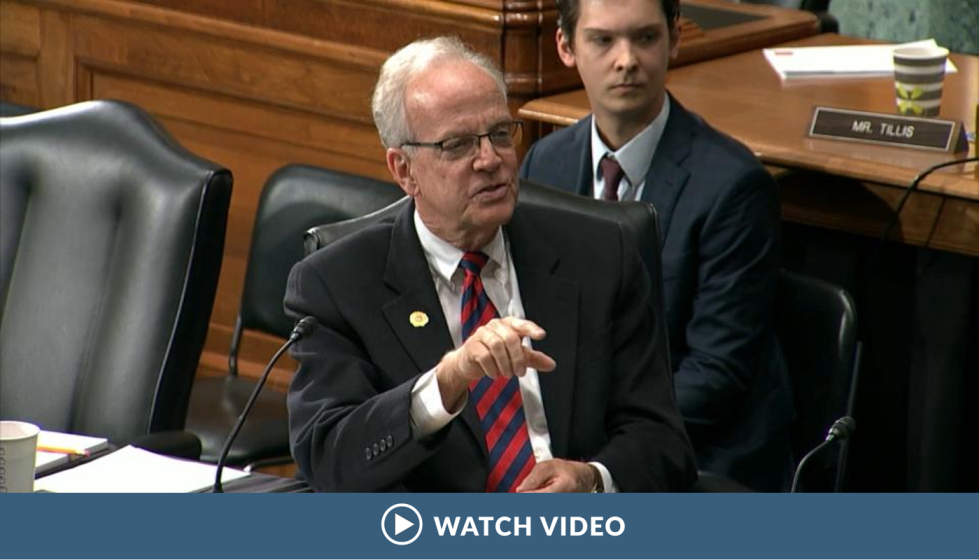 Joining Banking Republicans to Highlight Continued Concerns of Raskin Nomination
I joined Senator Thom Tillis and every Senate Banking Republican to highlight our continued concerns to President Biden regarding the nomination process that has unfolded for Ms. Sarah Bloom Raskin, his selection for the vacant Vice Chair for Supervision position on the Board of Governors of the Federal Reserve System.
Members of the Senate Banking Committee were compelled to deny a quorum for the markup scheduled for February 15, 2022, due to the simple fact that Sarah Bloom Raskin has continually failed to produce forthright answers to questions posed by committee members. To be explicitly clear, our actions were aimed solely at Ms. Raskin, as we offered to advance the nomination process for all other nominees scheduled for the markup.
It's not the Federal Reserve's job to determine energy policy in this country, and Ms. Raskin has repeatedly lacked candor throughout her nomination process. This comes as Russia continues its invasion of Ukraine and when we need to increase our energy production and lessen our dependence on foreign suppliers like Russia. Additionally, the Biden administration claims the need to ensure "revolving door" influence peddlers are not nominated to senior government positions. We need more information from Sarah Bloom Raskin to do that. Read the full letter here.
Speaking with Veteran Service Organizations
This week, the Senate and House Veterans' Affairs Committees held two joint hearings, first with Disabled American Veterans (DAV) then with Veterans of Foreign Wars and other veterans service organizations (VSOs). During these hearings, as Ranking Member of the Senate VA Committee, I discussed the impact of the lack of leadership at VA's Health Administration and Benefits Administration and how and why President Biden needs to place leadership in these seats for the appropriate administration of health care and benefits to veterans, servicemembers, dependents and survivors. We discussed the critical issue of toxic-exposed veterans and the following steps to best care for them, including my bill with Chairman Tester, the Health Care for Burn Pit Veterans Act. This legislation is the first of a three-step approach to expand access to health care for toxic-exposed veterans, establish a new process through which VA will determine future presumptive conditions, and provide overdue benefits to thousands of toxic-exposed veterans who have been long-ignored or forgotten. We also discussed the easy access to health care for rural veterans, which I know is such a real issue for Kansas veterans and a priority of mine when it comes to supporting community care and resources.
Visiting with Disabled American Veterans
Ahead of this week's VSO hearing, I met with delegates and leaders from the DAV to discuss their upcoming priorities as they continue their strong advocacy for our nation's veterans. I appreciate their work connecting disabled servicemembers to health care, education and employment opportunities, and to other critical resources to ensure their success in civilian life. I was also thankful to receive the Veterans Champion Award, and I remain committed to delivering results for those who have served.
Thank you to the DAV National Commander Andy Marshall, Deputy National Legislative Director Shane Liermann, Kansas Vice Commander James Bunker, Kansas DAV Dept Commander Karin Hansen, Kansas DAV Junior Vice Commander Ron Boykins and Kansas DAV Adjutant Eric Owens for their work and for taking time to speak with me.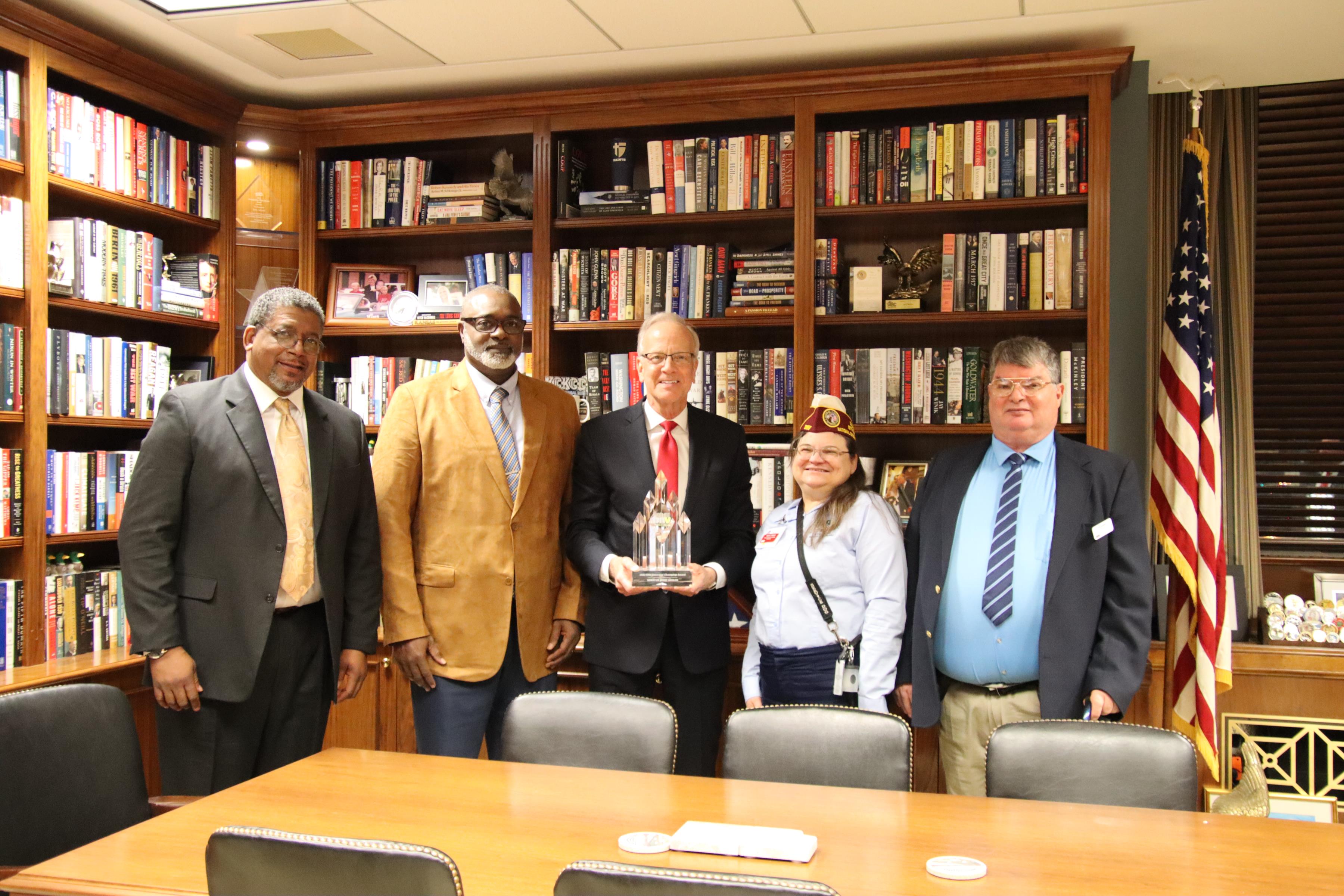 Wounded Warrior Project
I also had the privilege of speaking with leaders from the Wounded Warrior Project (WWP) this week. I visited with WWP's CEO Lieutenant General (Retired) Mike Linnington and other members of his team about how we can continue to work together to serve our veterans. We celebrated the passage of my Health Care for Burn Pit Veterans Act in the Senate – my bill aimed at increasing access to VA care for veterans suffering from exposure to toxic substances. We agreed there are still many ways we can improve the lives of our veterans, such as improving health care services at the VA for women veterans and by ensuring that Congress properly oversees the VA's implementation of the Commander John Scott Hannon Act, a law intended to bolster veteran suicide prevention services. I appreciated our conversations on how to best deliver results for the men and women that served our country so bravely, and I thank them for our conversation.
Meeting with Kansans in Washington
Heartland Credit Union Association
On Wednesday, I met with the Heartland Credit Union Association, an organization which represents credit unions serving hundreds of thousands of Kansans across the state. During the meeting, we discussed regulatory barriers and policies which increase the cost of credit for their members. Excess regulations cut customer services and limit access to credit. Kansas lenders are vital to the growth and prosperity of our communities. As a member of the Senate Banking Committee, I will continue to pursue policies which allow our lenders of all sizes to better meet the financing needs of families, farmers and businesses across our state.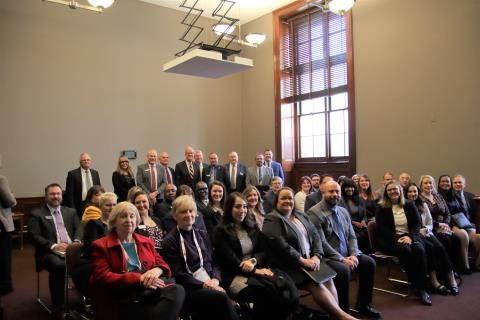 Kansas Soybean Association
On Wednesday, I met with the Kansas Soybean Association to discuss issues important to soybean farmers, including the need for affordable input supplies and a steady workforce to enhance food security, and supporting an economic environment that is favorable for both beginning and existing farmers as inflation continues to harm their operations. I appreciated catching up with them in person. As input costs rise and inflation affects farmers and the daily lives of Americans, it is vital to address supply chain disruptions and labor shortages.
I look forward to working with the Kansas Soybean Association on our shared priorities in the future. Thanks to Charles Atkinson, Ryan Locke and Dennis Hupe for their time this week.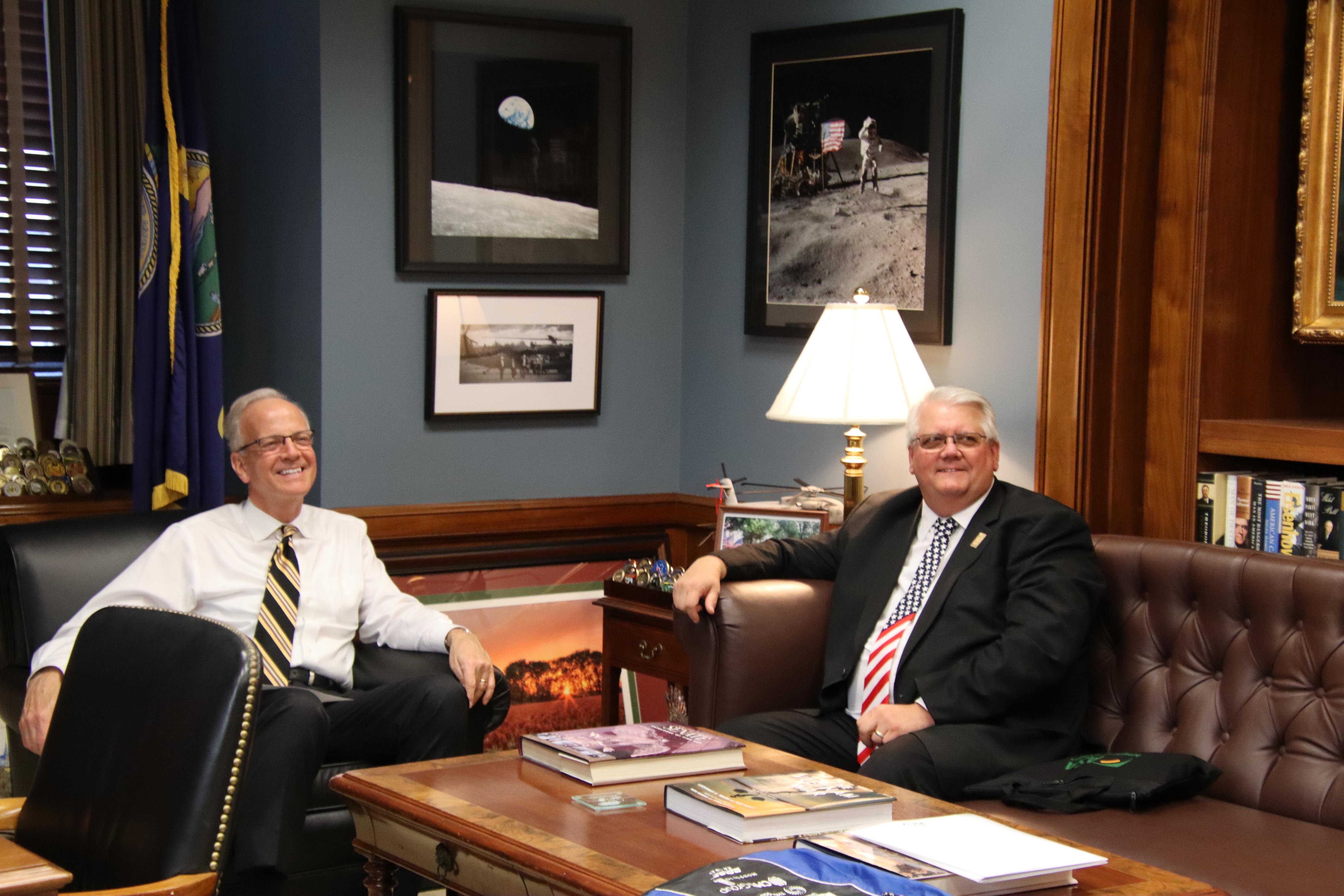 Kansas Association of Broadcasters
Local broadcasters help inform, entertain and unite communities across Kansas. I met with representatives from a few Kansas broadcasters to discuss their legislative priorities and what Congress can do to ensure they are able to continue bringing us together. We talked about how potential new fees for playing music on their stations would impact their businesses and about the challenges they face with the rise of Big Tech. Online platforms have become a force when it comes to how Americans view content, including content produced by local broadcasters and the related revenue models as content online will only continue to grow. I have long supported Kansas's local broadcasters, and I look forward to continuing to work with our radio and TV stations on this and other issues, to make certain they can bring Kansans the news and entertainment we enjoy. Thank you to Allison Mazzei, Justin Fluke, Mike Rajewski, Todd Johnson and John Leonard for speaking with me.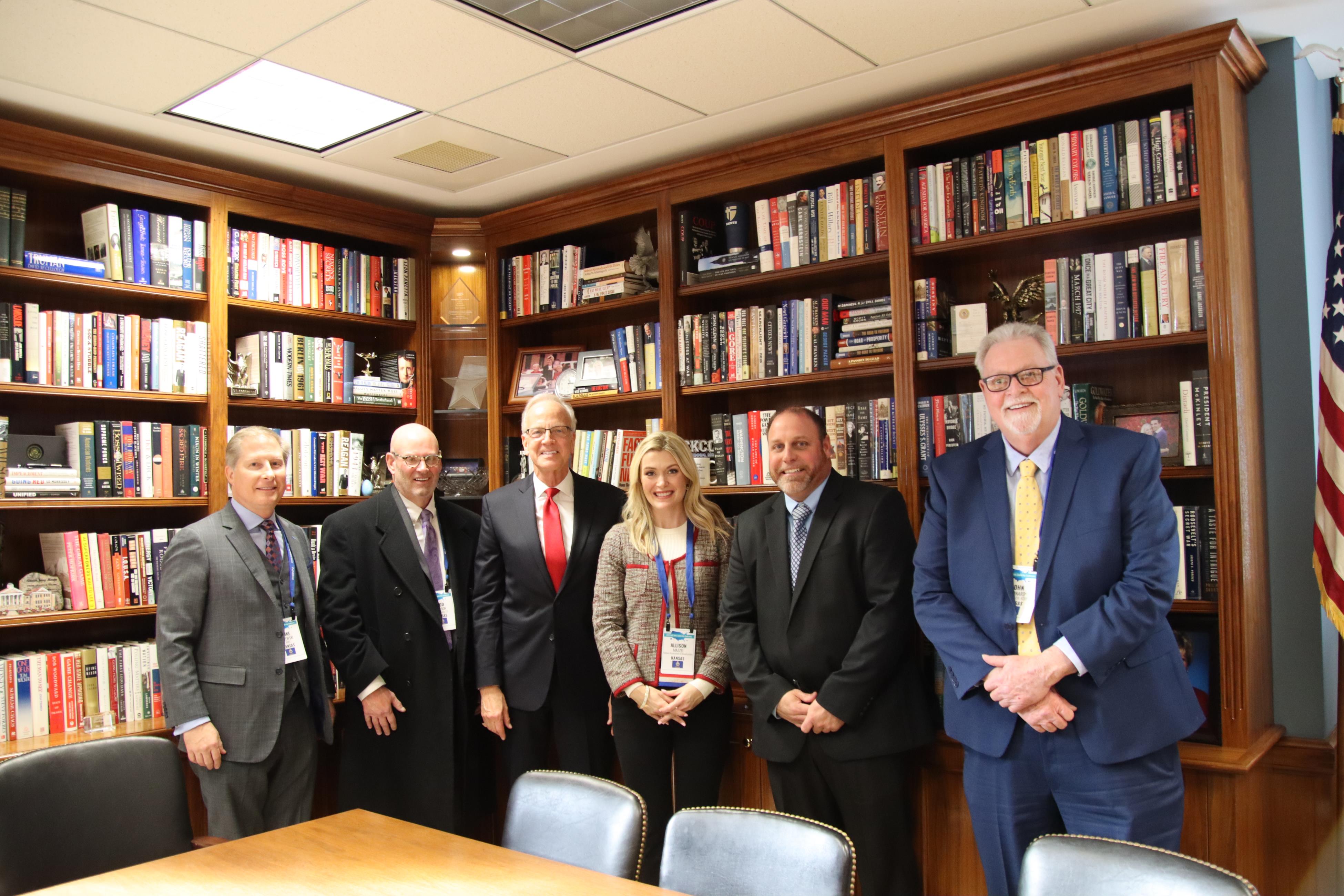 Kansas Principals
This week, I met with Kansas Municipal Utilities to discuss comparable tax incentives for municipal utilities to pursue renewable energy and the harm that supply chain issues have on municipal utility operations. In response to February 2021's Winter Storm Uri, we discussed efforts to winterize natural gas production and transportation facilities to ensure Kansans can access reliable and affordable energy. I previously worked to secure clarification from Treasury Secretary Yellen that Coronavirus State and Local Fiscal Recovery Funds may be used as grants for households, small businesses and nonprofits with inflated utility bills from the natural gas shortage during Winter Storm Uri. Additionally, I will continue to engage with the Federal Energy Regulatory Commission to urge swift conclusion of the commission's investigation into the historically high natural gas prices that burdened many Kansans last February as a result of Winter Storm Uri. Thank you to the Kansas Municipal Utilities delegation for their time and for sharing their perspectives on how to better ensure utility stability and affordability for Kansans.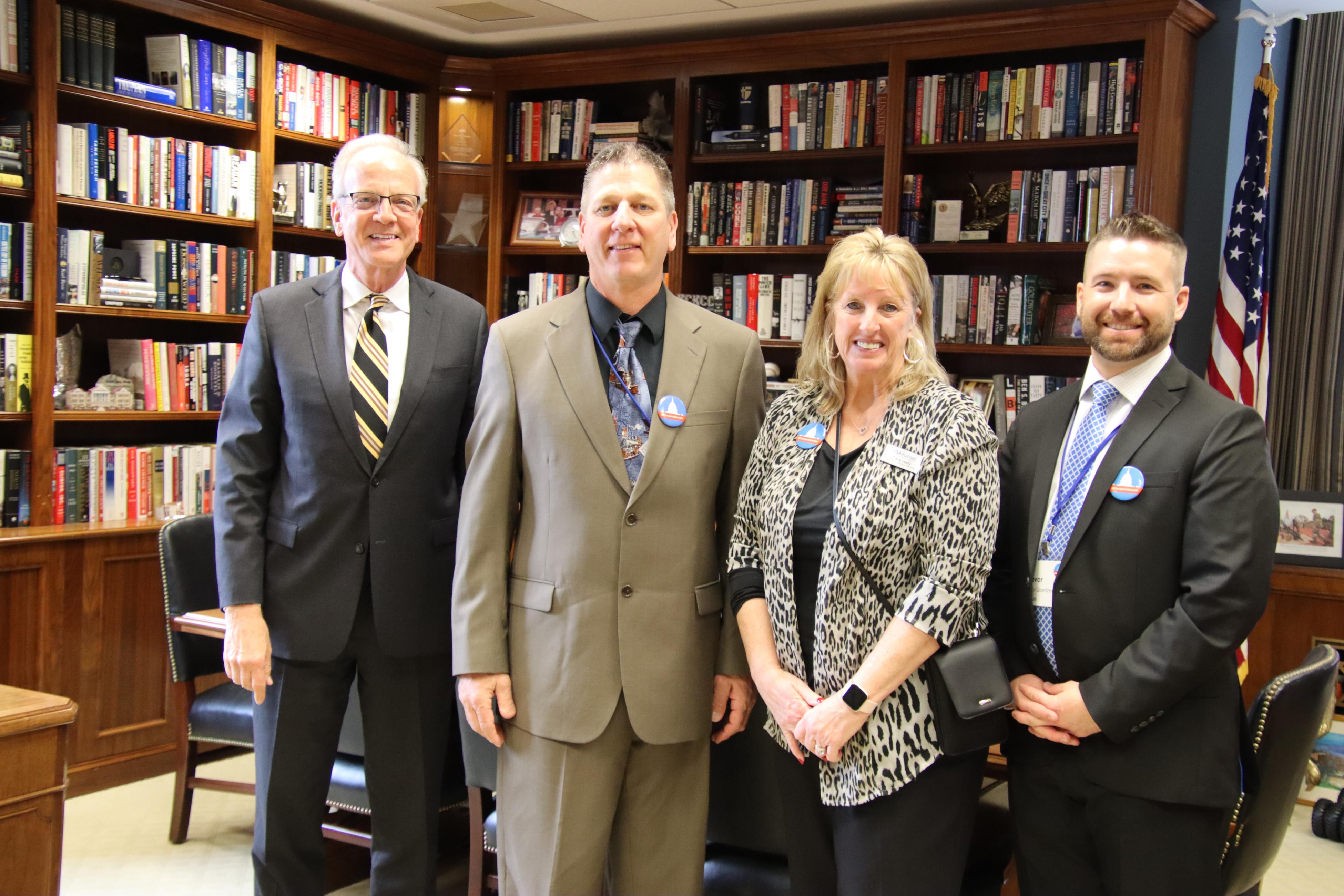 Kansas Municipal Utilities
This week, I met with Kansas Municipal Utilities to discuss comparable tax incentives for municipal utilities to pursue renewable energy, and the harm that supply chain issues have on municipal utility operations. In response to February 2021's Winter Storm Uri, we discussed efforts to winterize natural gas production and transportation facilities to ensure Kansans can access reliable and affordable energy. I previously worked to secure clarification from Treasury Secretary Yellen that Coronavirus State and Local Fiscal Recovery Funds may be used as grants for households, small businesses and nonprofits with inflated utility bills from the natural gas shortage during Winter Storm Uri. Additionally, I will continue to engage with the Federal Energy Regulatory Commission (FERC) to urge swift conclusion of the Commission's investigation into the historically high natural gas prices that burdened many Kansans last February as a result of Winter Storm Uri. Thank you to the Kansas Municipal Utilities delegation for their time and for sharing their perspectives on how to better ensure utility stability and affordability for Kansans.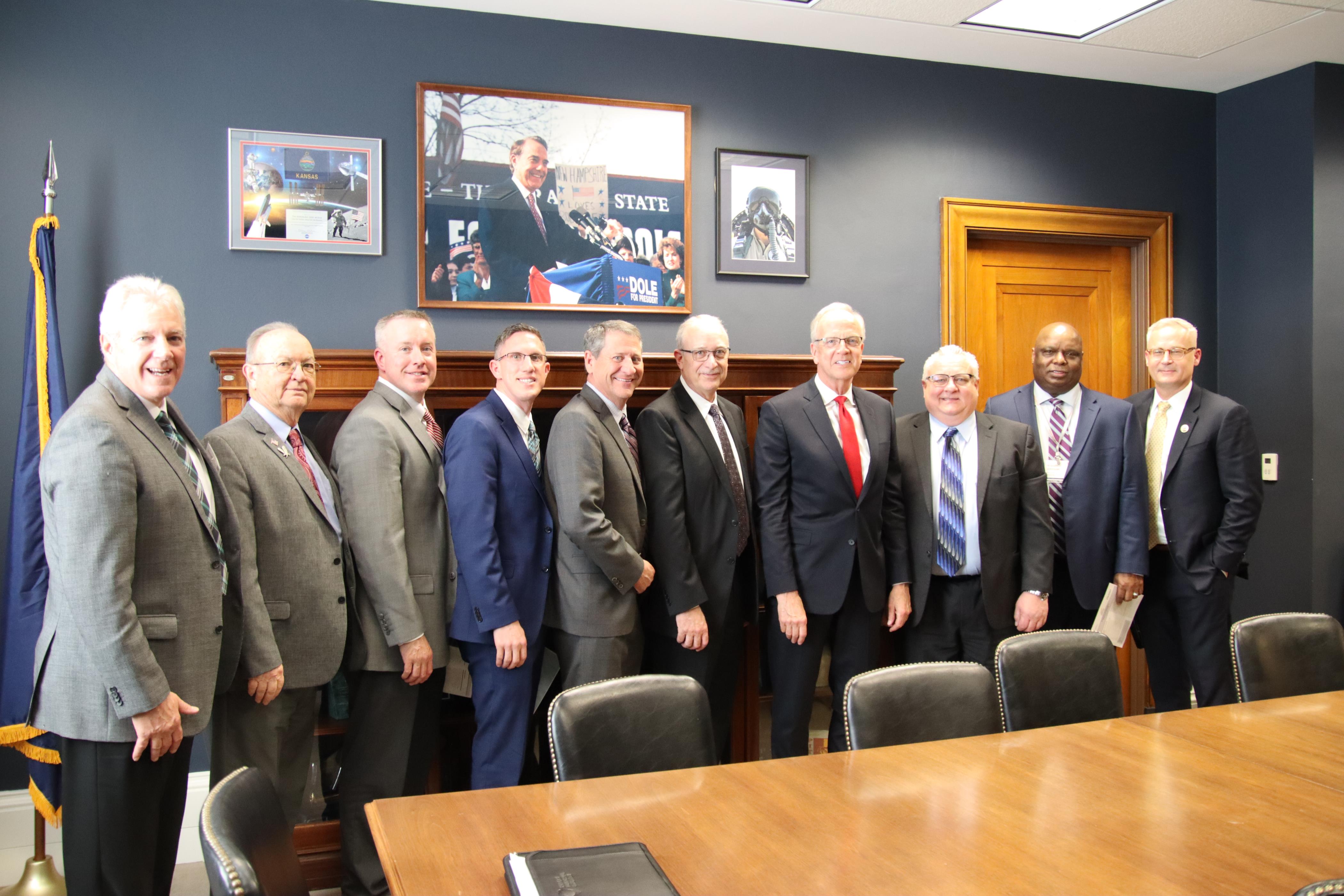 K-State Student Governing Association
This week, I met with student leaders from the Kansas State University Student Governing Association (SGA). My office was also able to give them a tour of the United States Capitol. I enjoyed catching up with them at the President Eisenhower statue in the U.S. Capitol rotunda to discuss issues important to students on K-State's campus. SGA is a great opportunity for college students to engage in the legislative process and advocate for issues important to them, and I look forward to seeing what these students accomplish in the future.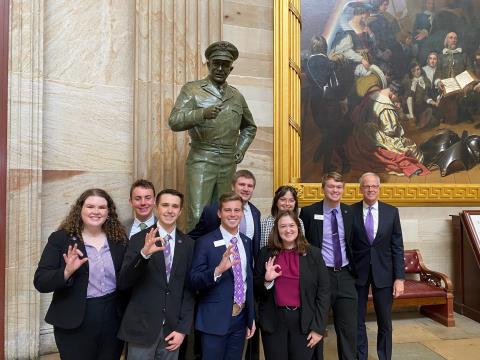 Discussing Biopharmaceutical Preparedness with Heat Biologics
This week, I visited with Heat Biologics, a biopharmaceutical company specializing in vaccines and infectious diseases, regarding their work to protect the public from global pandemics and bioterrorism. They develop one of the primary countermeasures to Anthrax exposure, and we discussed their work to support the U.S. Strategic National Stockpile that stores these vaccines in case of an attack. Heat Biologics is leading this cause, and I appreciate their efforts to protect the American public from biothreats.
We also discussed their efforts to develop a vaccine that can be rapidly programmed to target new and emerging infectious diseases. As we have seen over the past two years, it is vitally important that we prepare for every possible scenario related to a national health threat. I enjoyed sitting down with Jeff Wolff, their CEO, and Dr. John Prendergast to hear about the important technologies that Heat Biologics is developing.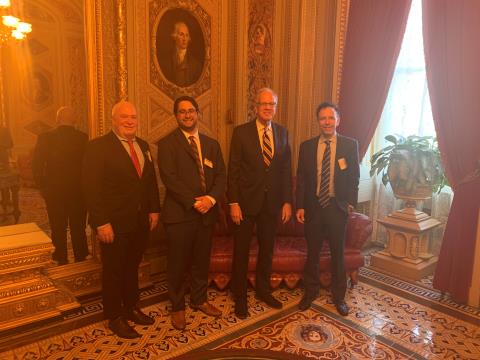 Attending USMA Board of Visitors Annual Meeting
As a member of the United States Military Academy (USMA) Board of Visitors, I had the opportunity to attend the most recent board meeting in Washington D.C. USMA Superintendent Lieutenant General Darryl Williams provided an update on USMA's initiatives and shared how support from Congress plays a crucial role in cadets' character development, education and training. Cadets also shared their experiences and expressed appreciation for the support they receive from my colleagues and I as they prepare to lead men and women as officers in the U.S. Army. I appreciated the opportunity to meet with these bright young men and women that have answered the call to serve.
Information for Students
Summer 2022 Internship Applications Due This Week
My office is currently accepting applications for the Summer 2022 Intern Session for one more week. An internship in my Washington, D.C. office provides a unique opportunity to work closely with Senate staff on behalf of the state of Kansas. Interns have the opportunity to witness the United States Congress from a unique perspective and develop knowledge and professional skills that will prove to be invaluable in future career pursuits. The program is open to qualified undergraduate and graduate students who have a strong interest in public service and government.
The summer deadline is this Sunday, March 13 at 11:59pm CT. We are also offering an early decision opportunity for our Fall 2022 Intern Session, with a deadline of Sunday, April 3, at 11:59pm CT. The early decision application allows students adequate time to plan for the fall semester and with advisors before summer break. My office will provide a regular decision fall application at a later date.
Please visit my website to hear from past interns, find the application link and learn more about this opportunity by clicking here.
Honored to Serve You in Washington
It is an honor to serve you in Washington, D.C. Thank you to the many Kansans who have been calling and writing in to share their thoughts and opinions on the issues our state and country face. I appreciate the words of Kansans, whether in the form of a form of letter, a Facebook comment or a phone call, who wish to make their voice heard. 
Please let me know how I can be of assistance. You can contact me by email by clicking here. You can also click here to contact me through one of my Kansas offices or my Washington, D.C. office.
https://www.moran.senate.gov/public/index.cfm/newsletter?id=AD45BFA6-1390-4C72-BC6D-9507915DC12D