The Allstate Corp. said it will cut approximately 3,800 jobs in claims, sales, service and support functions as part of its continuing plan to grow its property/casualty market share. The layoffs will affect about eight percent of the insurer's 45,780 workforce.
"Implementing this plan is difficult as we still deal with the impact of the pandemic but necessary to provide customers the best value. We have expanded transition support for impacted employees including prioritized internal hiring, extended medical coverage, expanded retraining support and help in employment searches," said Tom Wilson, chair, president and chief executive officer, in prepared remarks.
As a result of these restructuring actions, Allstate said it expects to incur a charge totaling approximately $290 million, with approximately $210 million to $220 million to be recognized during the third quarter of 2020, $50 million to $60 million to be recognized in the fourth quarter of 2020 and any remaining charges to be recognized in the first half of 2021. These charges will reduce both net income and adjusted net income. Severance and employee benefits are the primary costs (about $210 million).
Additionally, Allstate said it expects to incur real estate exit costs of approximately $80 million resulting from office closures.
The job cuts stem from a multi-year growth strategy— the Transformative Growth Plan— that calls for expanding customer access, enhancing the customer value proposition and investing in marketing and technology while making Allstate agency distribution more effective and efficient. A key element involves cost reductions from streamlining and restructuring.
As part of the plan, online seller Esurance is being integrated into the Allstate brand to reposition the Allstate brand for broader customer access and leverage Esurance's direct distribution expertise.
In addition, the pending acquisition of National General for about $4 billion is expected to accelerate Allstate's strategy to increase market share in personal property-liability and significantly expand its independent agent distribution, said CEO Wilson when the deal was announced in July. National General will become the insurer's independent agency platform, absorbing independent agency subsidiary Encompass and Allstate's independent agent businesses. National General will add 42,000 agents to the 10,000 Allstate and Encompass independent agents. The acquisition will double Allstate's premiums from the independent agency channel to 15%.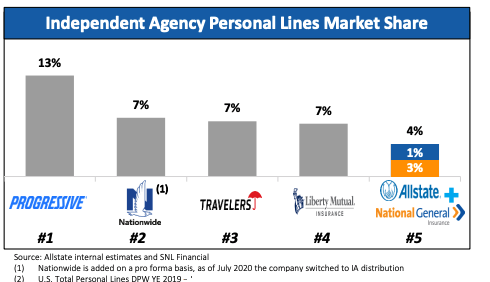 According to Wilson, the revamps underway reflect, in part, an unhappiness about how Allstate has been performing compared to its biggest rivals, despite an overall solid performance. Allstate concluded 2019 with nearly $4.7 billion in net income versus $2 billion during 2018.
"We're growing, but GEICO and Progressive are growing auto insurance market share faster, through massive advertising spending and low-cost structures," Wilson stated late last year.
The broad idea, Allstate has said, is to lower costs, support more competitive pricing without reducing margins, and free up funds for more marketing.
"The plan builds on our strengths," Wilson has said. "Our plan recognizes that customer needs are changing, due to increased connectivity and advanced analytics. Our leading positions in telematics and digital auto collision estimates are two examples of how we are embracing these changes."
He noted that most Allstate customers still prefer agents – "we hope an Allstate insurance agent when purchasing a policy" – but many are also comfortable with self-service.
The plan has also led to a shift in agent commissions, with some of the variable compensation traditionally used for agent renewals being moved to new business, in a bid to incentivize growth.
Wilson emphasized that the whole plan will take "multiple years to do." While expense reductions and more marketing will come first, the next step will be redesigning Allstate's property/liability products with innovative ideas, along with investing in new technology to improve product management and customer experience.
In the end, Wilson said, Allstate wants to give customers multiple ways to buy its signature products.
"This is not an "or" conversation. It is an "and" [conversation]," he said. "We want to sell as much as we can to as many people as we can, using as many ways as we can."
Topics
Agencies
Talent
Interested in Agencies?
Get automatic alerts for this topic.
https://www.insurancejournal.com/news/national/2020/10/01/584756.htm